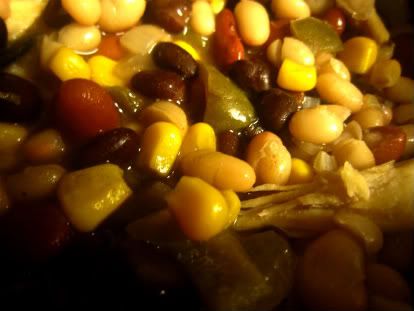 We made Chicken Chili today! However, we only had one chicken breast. So we put in more beans to offset the heat of the peppers. Below is the original recipe.
Hot Chicken Chili
1.5 tsp ground cumin
1 tsp salt
3 lbs boneless skinless chicken breasts (cubed)
3 tbsp vegetable oil (or olive oil)
1 cup chopped onion
2.5 C chopped green pepper
2 tbsp chopped garlic
2 jalapeno chilies seeded and diced
1 tsp dried oregano
½ tsp black pepper
2 cups corn kernels
1 cup white beans, drained, rinsed, and mashed
6 drops liquid hot pepper (Tabasco)
1. Mix ½ tsp cumin, chicken, and ½ tsp salt in a bowl
2. Sautee ½ the chicken and ½ the oil, 5-7 minutes in a pot. Do the other half and put in a bowl until step#4
3. sautee onion, green pepper, and garlic.
4. Return the chicken to the pot and simmer the rest of the ingredients all together.
We used 2 cans of white beans, one can of black beans, and one can of red beans. I also put in 6 splashes of tabasco instead of 6 drops. I don't recommend doing this, though, since my apartment mates were in pain afterwards. It was pretty tasty. We ate it with chips.