As a variation on the Google Maps Story assignment for ds106, I was thinking of some other creations one could do via the maps. This was mulling through me head as I was driving this morning to Flagstaff via one of the prettiest highways, the Lake Mary Road north of Clints Well.
So my game was, what sort of (loosely used) poetry could one make from place names? So here is my entry, using 5 cities/towns, with a little embellishing faked to look like states/province abbreviations (or go to map)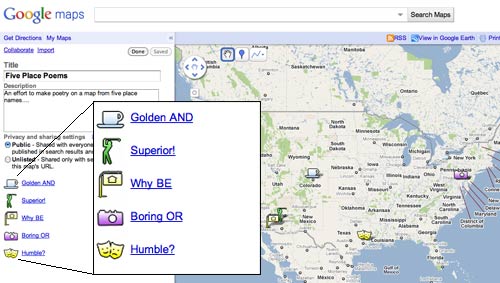 Starring:
Golden, Colorado
Superior, Arizona
Why, Arizona
Boring, Maryland
Humble, Texas
It's rather forced, but was fun to look for place names in Google maps. Try one? One could always start with a town in Pennsylvania and go who knows where?
Update! I was hungry, and thought of all the Burger Towns out there, so here is my Hold the Pickles Five Place Map
Gatlinburg (TN)
Harrisburg (PA)
Spartnaburg (SC)
Fredericksburg (yay UMW) (VA)
Burger Town (NC)