For my attempt at the ds106 El Mashup assignment, I stuck with a subject used twice so far for other ones- the legendary Dirty Harry. Previously done were Soiled Harry web story page redone from IMDb, and a little audio play with Dirty Daffy.
My plan was to mashup up Inspector Callahan with a Warner Brothers cartoon, so here I present Looney Harry:
I can't say it produces a coherent story line- my attempt was to maintain the integrity of the audio from the cartoon, and try and chop up, sauté, stir fry the video to try and match. I searched YouTube for a lot of cartoons- I needed something with a character like Elmer Fudd firing his gun, to match with the "do you feel lucky" scenes.
I ended up using Robot Rabbit, where Farmer Fudd conspires to deploy a robot to destroy the rabbit who keeps eating the farmer's carrot crops:
About the only structure I had was being consistent in the mapping of characters, which is a bit sideways, since the hero of Dirty Harry gets mapped to the buffoon of the cartoon, and the villan of the movie gets mapped to the hero of the cartoon:
Inspector Harry Callahan (Clint Eastwood) — Elmer Fudd just because he shoots his gun a lot
Charles Davis aka "Scorpio" (Andrew Robinson) — Bugs Bunny, unlikely, but a challenge since Scorpio has only scattered coherent lines, but is certainly looney. And he sang a little, when he kidnapped the school bus.
Inspector Chico Gonzalez (Reni Santoni) — the Robot for no other real reason other than he appears in multiple scenes.
I was almost stuck for the end part when Bugs Bunny foils the robot by flipping a bucket on his head and taunts him sexually as a fembot, but hit gold when flipping through the movie and found the scene where Callahan and Gonzalez are night spying for the rooftop shoote, and Harry zeroes his binoculars in on an apartment where a naked woman prances around.
Having never attempted a mashup or movie recut, I have a whole new respect for the ones that are done well. My lip matches are off sync a lot. If there are any snobs out there that just wave off mashups as trivial, simple and silly, I dare them to sit down and try one themselves– it is laborious, and you can fall down a (gulp) rabbit hole of aiming for perfection. I have to say I have scrubbed through that movie so many times, I know it in much more detail then from just passively watching, and I ended up noticing many more details than before.
On the technical side, I used Handbrake to rip the movie from my own (purchased) copy of the DVD. Unlike the last rip, this time I used the m4v option AND I set the option for large file. I also wanted to use MPEG Streamclip, and banged my head a while because I misunderstood how it worked. I had it in my mind, I could generate a whole list of clips by setting in/out points, and do all the clips at once. It then sunk in that I had to do one at a time- finding the scene with the elements I wanted to use, the select Trim from the Edit menu. Once here, I could dissect it further- if I needed a series of just Chico Gonzalez character, I could use one where he is conversing with Harry, and then use the Cut option to remove Harry completely. Then I exported the clip as MP4 (I found out I had o set the size option to 16:9 since the MPEG was an odd size, 853×356 and videos that size were not recognized by iMovie).
I also downloaded the cartoon as an MP4 (using the Firefox extension Download YouTube as MP4 and FLV), and converting it to AIF with QuickTime Pro. I started the project by laying in the full audio track to iMovie, and then proceeding through to add clips in the order to match. I found it helped to have the cartoon video open in QuickTime Player so I could watch a segment to get an idea what and who I was looking for in the Dirty Harry movie.
In iMovie, I imported the clips, set a guess at in/out points, and dropped it into my project track. I found the easiest way to deal with the movie's audio was to use Edit — Muet Audio option. I then had to stretch the length of the audio to hit the end of the current clip. I then used the Trim Clipping to fine tune the in and out of the video to match my audio. Then for a flourish, I tossed in a title to put in the beginning, and mocked up a credits at the end.
Remove the fumbling around trying to learn MPEG Streamclip, and this may have been 6 or 7 hours of effort over two nights.
In the end, I really wanted to finish this so I could know first hand what t took to edit a mashup. Now that I have a sense of the mechanics, I loof forward to returning sometime to try something else.
There is is, El Mashup.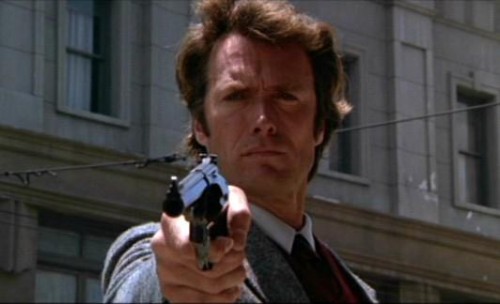 I know what you're thinking. "Did he edit six shots or only five?" Well, to tell you the truth, in all this excitement I kind of lost track myself. But being as this is ds106, the most powerful open course in the world, and would blow your head clean off, you've got to ask yourself one question: Do I feel lucky? Well, do ya…. wabbit?