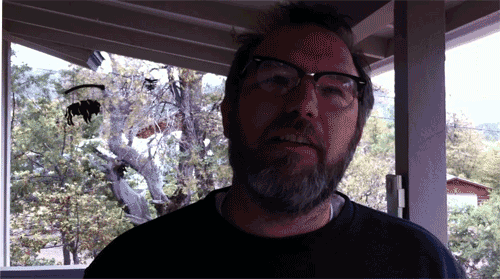 This psychotic animated GOF was grabbed hastily from the Amazing Story video JIm did for me when he visited Strawberry last month.
Not quite yet the perfect style, I am getting a better handle on isolating movement (sometimes- my Ayn Rand one was better). My current technique is:
Load video into MPEGStream Clip
Use the Export Frame option to export the single frames I need as a GIF
Load into PhotoShop as a Stack (Files — Scripts — Load Images as Stack) – this loads each frame in a layer.
Activate the Animation panel (Windows — Animation)
Shrink the time lines into "frame" slices

You can change the layer order. To do more isolated moviment, I have tried leaving the lowest layer as a background, and erasing all but the movement for the upper layers- this worked better for the Ayn Rand one where mostly it was just her face that moves. (download the Ayn Rand PSD to explore)
Make GIF! File — Save for Web & Devices (set for GIF, be sure to set animation settings at bottom right to loop forever)
Animated GIFs, yeah you get hooked on making them!